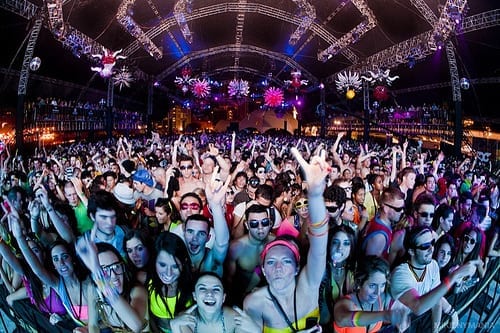 Let me pull up some crop circles and try and help you avoid it because believe it or not many enter in by the millions every day.
Jesus said there would be weeping,  and gnashing of teeth because they died without giving HIM their lives so HE could not claim them as HIS own before HIS Father in Heaven.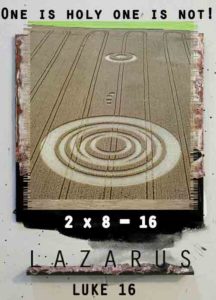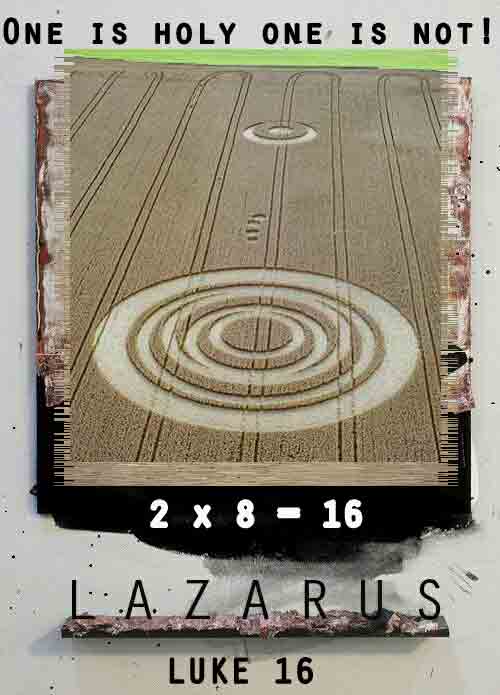 In the story of Lazarus, we find the Rich man and the poor man Lazarus and between them is a great gulf and none once dead can pass from one side to the other, the Rich man is not mentioned by name because his name does not appear in the book of life.  So many people are just like him, so it covers a boatload of souls in life he had importance now he has become insignificant.
Lazarus loved God and sat at the gates begging, while the rich man lived lavishly with his 65-inch big screen TV,  Hummer in the driveway, liquor in the liquor cabinets thousands of dollars of Tattoos right up to the wazoo.    With all his wealth, he ignored Lazarus, now he is being ignored and is unhappy.
The story Jesus tells us is that the rich man is thirsty and requests Lazarus to dip his finger in cool water and touch it to his tongue still not humbled he seeks Lazarus to continue to serve him.  Because of the heat, everything evaporates except for the soul, which is eternal,  alcohol doesn't even stand a chance.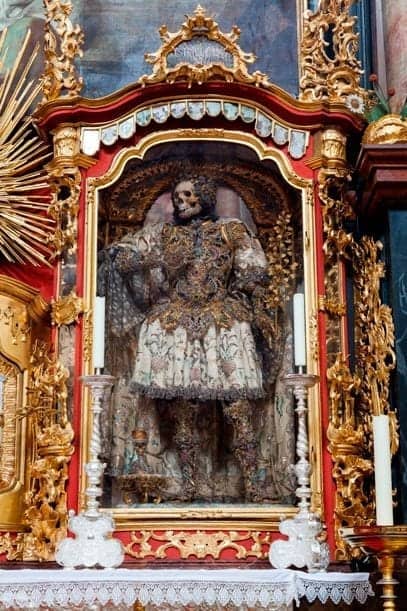 The crop image in England where the HEAD of the PROTESTANT Church is located shows two positions one is holy while the other is not and shows a pattern of turmoil using four lines there are four angels either coming from or going too we find out by subtracting one if it was a deposit and add one if he isn't in yet. It is not a good sign either way. The two thrones one holy one not multiplied by the four lines and four angels give us 16, and the story oddly is found in Luke 16:19-31.
If we subtract one (deposited) we get Psalm 15:1-5 knowing this could have helped him not get to this point.
A Psalm of David. LORD, who shall abide in thy tabernacle? Who shall dwell in thy holy hill? He that walketh uprightly, and worketh righteousness, and speaketh the truth in his heart. He that backbiteth not with his tongue, nor doeth evil to his neighbour, nor taketh up a reproach against his neighbour. In whose eyes a vile person is contemned; but he honoureth them that fear the LORD. He that sweareth to his own hurt, and changeth not. He that putteth not out his money to usury, nor taketh reward against the innocent. He that doeth these things shall never be moved.
(Psalms 15:1-5)
Look at that 15 1-5 is mercy God is calling you. You don't want to go there trust us on this.
If we add one (not deposited) it could be just the warning someone needs so they don't get sent.
Psalm 16:1-11
Michtam of David. Preserve me, O God: for in thee do I put my trust. O my soul, thou hast said unto the LORD, Thou art my Lord: my goodness extendeth not to thee; But to the saints that are in the earth, and to the excellent, in whom is all my delight. Their sorrows shall be multiplied that hasten after another god: their drink offerings of blood will I not offer, nor take up their names into my lips. The LORD is the portion of mine inheritance and of my cup: thou maintainest my lot. The lines are fallen unto me in pleasant places; yea, I have a goodly heritage. I will bless the LORD, who hath given me counsel: my reins also instruct me in the night seasons. I have set the LORD always before me: because he is at my right hand, I shall not be moved. Therefore my heart is glad, and my glory rejoiceth: my flesh also shall rest in hope. For thou wilt not leave my soul in hell; neither wilt thou suffer thine Holy One to see corruption. Thou wilt shew me the path of life: in thy presence is fulness of joy; at thy right hand there are pleasures for evermore.
(Psalms 16:1-11)
First, let's look at the ruler we call Satan the adversary I am sure the dark overlords within the governments have dismissed the crop images along with all the other Catholic clergy and friends because when it comes to saving souls they are all over that.
Note his appearance there are horns and a deadly stinger. You have to love how Father has him displayed in the water stained field to depict the flames of hell.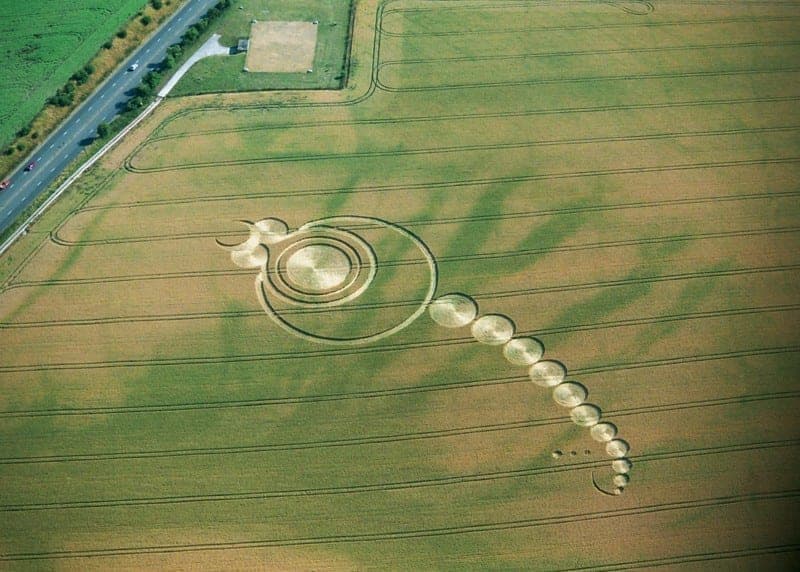 The covering more prominent in comparison to the angels by his stinger. Made up of 14 circles the eyes need not be so we come up with 12 the three angels for how many verses we come to Isaiah 14:12-15 he is two-faced so if he made you a promise he will not keep it. Double the 14 for Ezekiel 28:12-15 fourteen is a standout number so let's look at Psalm 14  and who will be spending eternity with him.
(Psalms 14:1-7)To the chief Musician, A Psalm of David. The fool hath said in his heart, There is no God. They are corrupt, they have done abominable works, there is none that doeth good. The LORD looked down from heaven upon the children of men, to see if there were any that did understand, and seek God. They are all gone aside, they are all together become filthy: there is none that doeth good, no, not one. Have all the workers of iniquity no knowledge? who eat up my people as they eat bread, and call not upon the LORD. There were they in great fear: for God is in the generation of the righteous. Ye have shamed the counsel of the poor, because the LORD is his refuge. Oh that the salvation of Israel were come out of Zion! when the LORD bringeth back the captivity of his people, Jacob shall rejoice, and Israel shall be glad.
Not done yet the 3 angels are pointing to the fourth circle at the bottom.  How to avoid his deadly bite and sting.
Psalm 34:1-22
(Psalms 34:1-22) A Psalm of David, when he changed his behaviour before Abimelech; who drove him away, and he departed. I will bless the LORD at all times: his praise shall continually be in my mouth. My soul shall make her boast in the LORD: the humble shall hear thereof, and be glad. O magnify the LORD with me, and let us exalt his name together. I sought the LORD, and he heard me, and delivered me from all my fears. They looked unto him, and were lightened: and their faces were not ashamed. This poor man cried, and the LORD heard him, and saved him out of all his troubles. The angel of the LORD encampeth round about them that fear him, and delivereth them. O taste and see that the LORD is good: blessed is the man that trusteth in him. O fear the LORD, ye his saints: for there is no want to them that fear him. The young lions do lack, and suffer hunger: but they that seek the LORD shall not want any good thing. Come, ye children, hearken unto me: I will teach you the fear of the LORD. What man is he that desireth life, and loveth many days, that he may see good? Keep thy tongue from evil, and thy lips from speaking guile. Depart from evil, and do good; seek peace, and pursue it. The eyes of the LORD are upon the righteous, and his ears are open unto their cry. The face of the LORD is against them that do evil, to cut off the remembrance of them from the earth. The righteous cry, and the LORD heareth, and delivereth them out of all their troubles. The LORD is nigh unto them that are of a broken heart; and saveth such as be of a contrite spirit. Many are the afflictions of the righteous: but the LORD delivereth him out of them all. He keepeth all his bones: not one of them is broken. Evil shall slay the wicked: and they that hate the righteous shall be desolate. The LORD redeemeth the soul of his servants: and none of them that trust in him shall be desolate.
If we count down from his two eyes they point to the 11th circle because there is no 311 Psalm we will look at Psalm 11:3  and America's foundations have been destroyed because the Catholic Church rejected the Lord, HIS teachings and HIS righteousness and served the serpent.
If we don't count his head, we can count down to eight Psalm 38:1-22 God is sending HIS wrath to judge the wicked.  Those wanting to escape need to place their trust in the finished work of Christ read the book of John inspect the sacrifice and become as Peter is and so many of us are a Royal Priest and dump all other priesthoods. They are liars and devils, and God is going to seal their demons in them for the final battle. So get "Born Again" before HE does seal whatever demon blinds them now.
Life goes on and on and on and on and on.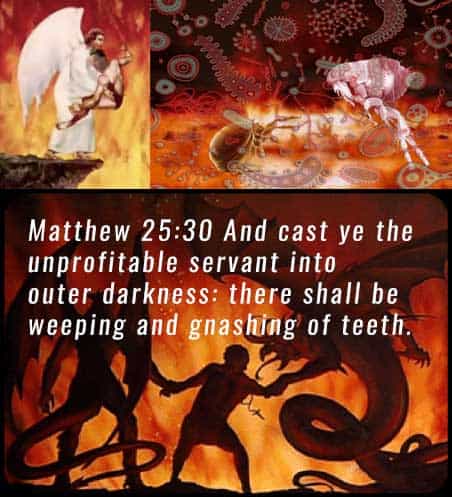 All senses remain intact the soul is conditioned to have its needs met, without a body and without a God no longer to provide, for he sought their love and attention and they rejected HIM their hell is a lonely existence friends don't visit most people who end up here realize they never had any friends that cared for them to begin with.
Voices are heard pleading for mercy but they rejected the mercy they were sent.  There are no materials to make anything. It is a time of reflection most souls continue to shake their fist at God blaming HIM for their existence and the choices that they made when they had so many others they could have made.
Is it so hard to love the one who first loved you? Who wants you to experience real joy and happiness in HIS home. Where evil is no longer because it has a place of its own it was meant for the devil and his angels when man fell he was given choices.
No one who goes to heaven ever regrets having made the right choice.
Without Jesus, there is no getting in.
What do you get when you take the greeting out of OHIO?
Brother Abel